Greatlander Articles, prior to December 2008
---
Norwegian Lefse Livens Holiday Festivities
The days are growing shorter and it's that time of year to plan our annual Norwegian lefse-making party. This long-standing tradition usually falls around Thanksgiving just as winter has settled in for the season on Alaska's snowy landscape. We've gathered with the same families for years on one Saturday in November to make this Scandinavian version of tortillas. Everyone brings ingredients — flour, potatoes, butter, cream, sugar, salt. Each family also brings something to share for the potluck chili dinner afterward –smoked salmon from the summer's harvest, home-brewed beer, caribou sausage, an early batch of holiday cookies. Then everyone rolls up their sleeves and gets to work in an endeavor that leaves the entire household coated with fine merriment and flour dust.
I learned to make lefse from my husband's family even before we were married. It was fascinating. Family members had gender-specific jobs. Mom and the sisters mixed ingredients, made the loaves, and rolled them out flat; Dad and the boys fried them on lefse grills, using long wooden sticks to flip the large discs of dough. The guys then dusted off excess flour and tucked the lefse between clean towels to let them steam and soften. The entire house grew warm, not only because of the 500 degree grills, but also because of the good-natured ribbing that heated up over the course of the day. If one of the women rolled a lefse thicker than a piece of paper, the guys teased that they were frying up horse blankets. And if the guys tore a lefse with one of the sticks, the gals retorted that their back-breaking work had gone to waste. And so the day went with much laughter and teasing.
The first time I made lefse on my own, our one-year-old son Erik, sat on the table while I rolled. His job was to sprinkle flour on the rolling board. He reached deep into the canister, let himself feel the silkiness of flour slide through his fingers, then gleefully delivered mounds of into the path of my rolling pin. It wasn't long before he looked like a blonde Pillsbury doughboy. Erik, who is now 25 years old, hoisted his own son onto our countertop last year to take on the job of helping "Oma" with the flour.
With the scent of cooking potatoes permeating our kitchen, we've watched our children and our friend's children grow to adulthood. And we've watched ourselves and each other grow into middle age. Laughter has not diminished over time. We are still giggling over the case of mistaken identity (or so he says) when my husband patted the wrong rear-end as he passed by the woman at the rolling board. Turns out it was Mary, our pastor's wife, not me. It was their first year at the party, and Mary must have thought it an unusually friendly Lutheran gathering.
There were countless sword-fights between young boys wielding lefse sticks and daughters tentatively taking up the rolling pin with trepidation at the teasing bound to result from their first efforts. Last year, our son boldly broke long-standing tradition and took up a rolling pin – much to the amusement of the rest of the guys. There are the continued debates about how best to eat lefse – with or without sugar, brown sugar, or cinnamon. (The purists insist only butter, nothing else.) Today our kids bring their spouses and children and we sometimes have as many as 20 people gathered around the table. In the end, the most important ingredient in making lefse has always been the family and friendships that warm our hearth and hearts. And each year we give thanks for the traditions that make our Alaskan winters a little warmer.
Johnson Family Lefse
download recipe here
Lefse requires simple ingredients, but some specialized equipment and the willingness to make a mess. You'll be dusting flour from your furniture until Easter.
Equipment:
Lefse grill – heats to 500 degrees
Lefse sticks to pick lefse up from the rolling board and flip onto the grill
Rolling board covered with pastry cloth
Corrugated rolling pin covered with a cloth
Potato ricer
Ingredients per batch:
5 c. riced potatoes (boil potatoes until tender; while still warm (not hot) rice the potatoes in the ricer)
1 1/2- 2 cups flour
3 Tbsp. melted butter
2-3 tsp. sugar
1 tsp. salt
¼ c. cream or ½ an ½
Mix ingredients to form into two loaves. Let loaves rest about 10 minutes. Cut loaves into about 8 pieces each. Form each piece into a flat ball and place on well-floured, clothe-covered pastry board. Roll lightly until very thin. Gently pick up with lefse with the stick and grill on preheated grill. After lefse begins to brown on one side, flip and grill on the other side.
Tips:
Don't be afraid to use too much flour when rolling. Once the rolling pin or board get sticky, it becomes a real chore to continue. If the board gets sticky, use a butter knife to scrape away the sticky spot and rub flour into that area of the board.
Use a dishcloth to dust the excess flour off of each side of the lefse as it is cooking. Place cooked lefse between two clean bath towels so that it can steam and soften. (No scented fabric softener on the towels!) Don't put more than 15-20 lefse in a stack before starting a fresh towel.
Allow to cool before packaging.
top
The Mysterious Case of the Un-missing Chicken
Bird dogs. I had to remind myself that these Labrador retrievers were bred to hunt birds. The two dogs looked up at me, grinning, as if they expected congratulations for their morning adventure. I stared back at partners in crime. How could these beloved pets have committed such an atrocity?
It was a crystal fall day in Alaska when birch leaves shimmer like gold medallions against a dazzling sky. Termination dust whitened the peaks of the Chugach and Talkeetna mountains and each morning a light fog hung over the waters of Cottonwood creek. The autumn sun warmed our chilly air with the gentle remembrance of summers past.
Our three and one-year-old grandsons, Elias and River, were visiting the farm that day. They were tickled to discover that we were also watching one of our Lab's puppies, born earlier this spring. Elias loved it when little Millie came to play. He'd recently asked why she was so BIG. In five months she'd gone from sitting in his toddler lap to being able to knock him over with her wagging tail.
"Puppies grow up," I told him. "Just like little boys."
The boys and dogs and I were outside soaking up the sun and playing with Tonka trucks in the yard when a great commotion broke out among the chickens. Several of the birds had found their way outside the chicken gate only to be met by an enthusiastic half-grown pup. In one ecstatic leap, Millie was on top of one of the birds. With feathers flying and chickens squawking, I started yelling "No. No. NO." and ran to the rescue. I was able to free the bird from the pup's jaws, but just as quickly she grabbed another. Our dog jumped into the scene and began barking. Pandemonium ensued as I tried to corral gleeful dogs and panicked chickens. One-year-old River began cry and Elias ran indoors to call Papa for help.
We finally managed to separate predators from prey, but I figured we now had at least one injured chicken in the mix. The problem was that half the flock was in molt, a scraggly season when chickens lose their feathers. Every one of them looked like they'd been mauled. Jittery from the drama, they wouldn't hold still long enough for me to see who might actually be hurt.
As we walked around the yard trying to assess the situation, we discovered a pile of feathers on the far side of the garden. It was not just a mouthful of some chicken's tail-feathers; it was distinctly the remains of a bird. I swallowed hard and my husband reached down to pick up evidence of a killing.
We walked quietly back toward the house with River on my hip and Elias chatting about the trouble with puppies and chickens. Elias eyed the feathers in Papa's hand and said. "I think we need to go to the vet."
"Honey, I think it's a little late for that," I replied.
It didn't make sense though. Had the dogs gotten a hold of a bird earlier in the day? We found our answer near the back porch where several gooey piles of partially-digested bird parts lay near the door.
"What have you done?" I asked the dogs who wagged their tails triumphantly. Its just instinct, I lamented. This is what they were bred to do.
Later that evening, as the now calm chickens roosted in their coop, I went inside to count the birds and determine which one of our girls had met their sad fate that day. I counted. Then I counted again. And I counted a third time. None of the chickens were missing!
But how could that be? We had all of our chickens but we also had one dead bird. Then it occurred to me. Somehow on that fine fall day, a wild spruce hen or ruffed grouse must have made the mistake of landing in our yard. And our bird dogs had done what they do best. Gone hunting.
The question now, is how to convince these dogs that it's not open season on the chicken coop. And somehow warn wild birds to steer clear of the farm.
Puppy Love
As I sit at my computer this morning, two Labrador Retriever puppies are galloping around my office in fierce mock battle. The rest of this litter of eight went home to their new owners this past weekend. These two fierce little tykes will go to their homes tomorrow.
While my husband and I will presumably enjoy getting more sleep and not having to mop floors several times a day, I confess that our goodbyes were more difficult than I had anticipated. On the day that the owners came to claim the puppies, every time the doorbell rang, my husband and I reminded each other that even if we returned everyone's deposits, we simply could not keep nine Labradors.
We were gratified to see each pup go to an outstanding home. One went to a ten-year-old girl in Eagle River, who had for months been saving her money in a glass jar with a picture of a yellow Lab taped to the outside. When she came to pick her pup out of the litter, a little yellow male climbed into her lap and claimed her.
The sire's owners took one pup to give to their adult son for his birthday. Surprised and delighted, the son immediately booked tickets for him and his wife to travel from Seattle to Alaska to claim their pup. They named him "Echo," since he is a handsome replica of the sire.
One couple brought a tote full of puppy paraphernalia – a soft towel, a puppy toy, and a camera. They marveled at the interaction between mother and pups, and how the dam both played with and disciplined her babies. They named their puppy Jupiter after the street in Anchorage on which they live.
Another family traveled from Soldotna to pick up their puppy. Their Lab had recently died and they were still feeling the ache of that loss. After the parents put the pup between their young daughters in the back seat of the car, the mother returned to me as I stood moist-eyed on our front step. She handed me a plush toy replica of a yellow Lab – a tender thanks and consolation.
These puppies were special to us for a number of reasons. Our dog, LC, was a pup out of a litter bred by our friend Larry Crawford. Larry was an avid hunter, a dedicated dog man, and a field trial judge. Several years ago he was diagnosed with melanoma. Even in the midst of his brave battle with cancer, Larry decided to breed his dog, Jewel, to one of the finest dogs in America, "Ramblin' Man," a two-time national field trial champion. Sadly, Larry did not have the pleasure of watching this new life come into the world. He died just two weeks before the puppies were born.
We named our dog "LC" after Larry, and she is the most talented and sweetest dog we've ever owned. Her enthusiasm for life is infectious and I suspect that's just what Larry had in mind when he bequeathed these dogs to his friends. In the midst of our sorrow, we were given the miracle of bright eyes, a wagging tail, and friendship with a creature whose love is unconditional.
It has been a pleasure to pass Larry's legacy along through this new batch of puppies. We wish the new owners much love and many blessings as their lives are enriched by the newest members of their families.
top
Kitchen Table Moments
Last October, I was approached by Epicenter Press, asking if I would write a biography of Governor Sarah Palin. I had watched Palin's rise to the state's highest office with interest. Jaded as I was about politics in general, the notion that people could take government back into their own hands renewed my faith in the democratic process. It was an opportunity to learn and write about a fascinating woman who made Alaskan history by being the first woman and the youngest governor ever elected.
My first task was to gain an audience with the Governor. Neither Palin nor her staff knew me and demands for the Governor's time are enormous. The response to a letter asking for an interview was slow. Reminiscing about her childhood was a small blip on the big screen of her priorities.
So I started by talking to her brother and sisters and parents. I spoke with friends and colleagues and coaches. And in learning more about our governor, I discovered a treasure trove of people whose stories make up the fabric of a large and colorful community.
There was Kerm Ketchum, who sat at his kitchen table paging through the well-worn Bible of his late wife, Gina. He told rich stories about coming to Alaska, his now-grown daughters, his grandchildren, and how much he misses his wife. The Governor, who was known at the time as Sarah Heath, played basketball on the same "Little Dribbler" team as his daughter, Kim. Ketchum worked tirelessly as a volunteer on Sarah's campaign.
There was Amy McCorkel who described her job as an investigator for Alaska's public defender agency. She talked about her work with young offenders and how too many have never had a caring word spoken to them. Amy began as Sarah's aerobics instructor and they struck up a friendship. Even though she's a democrat, she said she voted for Sarah.
There were Rev. Paul and Helen Riley, who are at that comfortable place in their marriage where they can finish each other's sentences. Sarah grew up in the Wasilla Assembly of God church that they founded in 1951. With warmth and humor, they pointed out that many people from Sarah's youth group grew up to become successful adults. Today Paul works as a prison chaplain and Helen keeps him organized by helping with phone calls and correspondence.
The first time I talked to Sarah Palin's brother, Chuck Heath Jr., he was busy replacing a broken toilet – the result of his toddler's experiment with a toy. After fixing the plumbing problem, Chuck divulged how he enjoyed teasing his younger sisters – Heather, Sarah, and Molly – and although he tormented the girls, he always felt fiercely protective of them.
Sarah's sister, Heather Heath Bruce, remembered the road trip in the family's blue station wagon to the Lower 48. She recalled how as Alaska kids, they marveled at 4th of July fireworks going off in a starlit summer sky.
Sarah's other sister, Molly Heath McCann, told the story about how someone called from the Governor's mansion in Juneau asking their mother, Sally Heath, if the family had any favorite dishes that the cook could prepare for Sarah's inaugural dinner. Sally responded with unpretentious grace: "Oh, just make it something easy; spaghetti or chicken would be fine." As the formal state dinner drew to a close, Sally rose to help clear the dishes. "Its fine, Mom," Molly said. "Let the staff do it."
And Sarah's dad, Chuck Heath, pulled out the photo albums. Along with anecdotes about his daughter, he told of his and Sally's adventures in their work as trappers for the U.S. Department of Agriculture's Wildlife Services Program. They've traveled all over the world trapping fox, eradicating rats, and keeping birds off runways.
These and many other recollections didn't make it into the book. There just wasn't time. Eventually I did have two interviews with the Governor and she was both gracious and attentive.
Governor Palin would be the first to acknowledge that she could not have succeeded in her bid for the governor's office without the support and help of this richly textured community. People like Kerm and Amy and Paul and Helen and dozens of others who shared their joys, their aspirations, and even their heartbreak. The stories these folks told from their kitchen tables offered moments of laughter and grace. They were moments worth holding in the place we keep the things we don't forget.
Retirement of a Country Cat
We are dog people. In fact, my husband claims that he positively despises cats. So over the past seventeen years, people were always surprised to learn about our sassy tabby cat, Katrina. She was our consolation prize in a complicated set of events at a time when our two sons were eight and six years old. My husband's job took us away from Alaska, but our intention was to come home within six months. Those months dragged on for nearly two years. Meanwhile we lived out of boxes as we kept ourselves poised for the return to our house in Eagle River. When it finally seemed our homecoming was imminent, we promised our boys a puppy.
When, once again, we had to postpone our return to Alaska, the boys wept that their promise of a puppy had vanished. So, as solace I bought them a six-week-old tabby kitten. (My husband asserts he was blindsided by this decision.) Katrina was a more portable pet than a puppy, especially for a family in transition. The boys named her Katrina, and she quickly turned our disappointment into laughter. Every day featured another comical kitten adventure. Whatever fun the boys had in playing with her during the day, Katrina had the final word when she pounced on their toes as they tried to fall asleep at night.
When we finally did come home to Eagle River, Katrina settled into Alaska life in spite of the bounce and rigor of that long-awaited pup. She and the dog negotiated a friendly truce and she purred contentedly for most of the next 15 years. She nested in the chaos of Erik's room and found his pile of dirty socks the perfect place to wait for his return from school. She tolerated Mark's affable torments; he loved to startle her from peaceful naps by thumping her on the rear. She scolded him in truncated meows as she stretched, yawned, and then crawled onto his lap to have her ears scratched. Reprisal didn't occur to her. Her affection for the boys never wavered as she watched them grow from little boys to teenagers and then young men.
Then those young men left home. Erik went off to college and marriage and kids of his own; Mark went out on gigs as a wild land firefighter and construction worker. Katrina stayed behind as I struggled with those passages of life that are both good and right, but that can also leave a mother feeling bereft. Katrina's warm purr was an antidote to a hollow feeling in my chest.
Then my husband and I moved to our little farm here in Wasilla. Katrina became a dream-team hunter of mice and voles. She claimed the barn as if it were her kingdom. When she wasn't keeping watch over her domain of goats and chickens, she snoozed on the south-facing porch of the barn. One day our friends came to visit and brought their dog, a big chow-Australian shepherd mix. The dog took one look at the chickens and thought "A get-your-own buffet . . . this is gonna be fun."
Before our friends could say, "No!" the dog was out of reach and on the hunt. Katrina watched this unfold from her perch on the barn porch. When the dog crossed into chicken territory, she flew at him like a wild thing, a bottlebrush of fur and ferocity. Utterly surprised, the dog yelped and nearly fell over backward trying to make a hasty retreat. Still puffed up and peeved, Katrina walked stiff-legged toward the dog, whose appetite for chicken had suddenly vanished. For the first time in nearly 17 years, my husband looked at our cat with admiration and respect. She had saved his beloved chickens from carnage.
Even with all that chutzpa, at age 17, Katrina was getting old. For months her health had been declining.  The cat that had once been a plump tabby was becoming a scruffy bag of bones. Her hair had begun to fall out. She vomited daily. One day I held the wisp of what had once been a beautiful animal and knew it was time.
Saying goodbye to an old friend is never easy.
On a cold, gray day this past December, I called our vet, Marian Frost, from Ravenwood Veterinary Clinic and asked if she would come to our home. Katrina hated going to the vet, and I wanted our goodbyes to be as peaceful and humane as possible. Dr. Frost agreed. On a Sunday afternoon, taking time away from her own family, she drove out to our farm. As she always did, Dr. Frost commented on how beautiful Katrina was, admiration which I suspect she relays to the owners of all of her patients. She also confirmed that Katrina was a very sick kitty; and that I was making the right decision. I couldn't answer through my tears. All I could think about was the comical kitten Katrina had once been, how her life had spanned some of the best years of our family's life, and how unfair it is that we outlive our pets. As I held Katrina to my chest, she purred deeply as if to offer comfort as her final, parting gift.
I will forever be grateful to Dr. Frost for her compassion not only to animals but to the people who own them. She reminds me that care of the heart is as important as care of the body. And I look forward to spring, when new life will grow over the little grave next to the creek that trickles through our property. There are small fish in that creek and voles that skitter through the deadfall of leaves and branches. Somehow it's a place I think Katrina would approve.
Watching Alaska's Sky
"We had the sky, up there, all speckled with stars, and we used to lay on our back and look up at them and discuss about whether they was made, or only just happened."  Mark Twain'sHuckleberry Finn.
A group of folks from our church get together once a month to go moon-walking. We gather at the church parking lot after dark and then carpool to places like Eklutna Lake, Eagle River, or the Beach Lake trails. We bring our dogs – sometimes dogs outnumber people – and we tend to laugh a lot. All the while, our gaze is cast upward, waiting for the rising moon or the spectacle of the northern lights.
People have pondered the skies since the beginning of time. We've navigated by the stars and consulted the constellations. We've been inspired by sunrises, and fallen in love to the glow of sunsets. Through sky-watching we've conjectured about God, speculated about life on other planets and considered the future of the universe.
Alaska's sky hosts an abundance of sky phenomenon. Between climactic conditions, proximity to the North Pole and the unusual angles of the sun, the Last Frontier's sky bears watching both winter and summer, day and night.
The Northern Lights are steeped in folklore. Ottawa Indians considered them torchlights of a protective god. The ancient Chinese and tribes from Siberia revered them as signs of fertility and easy childbirth. In Europe, during the middle ages, the aurora was thought to be the breath of warriors battling in the skies. Other cultures considered them omens that warned of illness, death or war.
Scientists now understand that the aurora coincides with sunspot activity. Explosions on the surface of the sun send out particles creating a solar wind. These particles of electrons and protons penetrate the earth's atmosphere along the magnetic field of polar regions.  Although sunspot activity happens year around, the moving curtains of light appear in winter, when Alaska's night is the deepest and darkest.
The weak winter sunlight plays with ice crystals in the air to create a variety of colorful and curious phenomenon. Sundogs appear like chunks of a rainbow flung in centrifuge around the sun. A halo around the moon denotes a change in weather; moonlight reflecting off ice crystals in high cirrus clouds often means a storm front is on the way. Sometimes in winter, all light sources, from cabin porch lights to car headlights, spike up like needles piercing the dark sky, These vertical light shafts signify cold temperatures. Flat ice crystals that throw light upward, form only when temperatures are minus 5 to 15 degrees.
The low angle of the sun reflects off clouds to create a kaleidoscope of colors and forms. Rare noctilucent clouds shimmer silver and blue just after the sunset. These clouds, seen only in the far north, have fascinated skywatchers for nearly a century. They are found at remarkably high altitudes. Most clouds are found at or below 15 kilometers. Noctilucent clouds form their lacework at 82 kilometers and can be seen only after the sun is 6-16 degrees below the horizon. It is believed these clouds consist of ice coated dust particles from meteors.
As our moonwalking group can attest, sky watching in Alaska is not only mystical, it is often communal. Neighbors pull up lawnchairs on icy driveways to watch northern lights shimmer across the sky. It's not uncommon for the phone to jangle at 2 a.m. as an observant nightshift worker returns home and alerts us to an exceptional display.
With today's fast-paced schedules it takes a conscious effort to look up from the work desk, the television and other preoccupations. It takes a willingness to wrench our gaze from the ordinary and cast it to the ethereal sky. Sometimes it means getting out of bed to don a parka, and fumble for cap and mittens. Other times, it's the pleasure of a monthly hike in the moonlight with friends.
Maybe Robert Service best described northern skywatching in "The Spell of the Yukon:
I've stood in some mighty-mouthed hollow
That's plumb-full of hush to the brim;
I've watched the big, husky sun wallow
In crimson and gold and grow dim,
Till the moon set the pearly peaks gleaming,
And the stars tumbled out, neck and crop;
And I've thought that I surely was dreaming,
With the peace o' the world piled on top.
Quest for the Ultimate Sled
Our son, Erik, took up his quest for the ultimate sled as a five year old. It's not that he didn't have a store-bought sled. He just figured he could build his own. He used two 2x4s and attached a piece of plywood across the "runners" for a seat. It took him several hours, pounding nail after nail into the boards. He was a little young to realize the dubious results of square-ended runners. As for the six pounds of nails used to hold the thing together, maybe he figured the heavier the sled, the faster it would sail down the hill.
It took two adults to lift the monolithic sled to the luggage rack on my car. Erik was flushed with excitement as we drove to the mountains for a test run. Little brother Mark, the eternal skeptic at three years of age, threw his plastic sled into the back of the car. "It'll never work. Wait and see."
We didn't have to wait long. Mark threw himself headlong onto his plastic tub and cruised down the hill. Erik's wooden contraption scooted forward three inches before coming to a sad halt. We decided to name Erik's first model, "The Dud."
A few years later Erik inherited an old set of wooden skis, and his 9-year-old eyes lit up with enthusiasm. This time, he used screws instead of nails and I admit I was impressed at the results. Mark's usual skepticism had been replaced with a dangerous twinkle in his eye. "This is going to be COOL."
What Erik hadn't counted on in his design was the effect of deep snow. On hard packed or icy conditions, the sled would have moved like a sonic boom down the mountain. But on its first run – in 12 inches of powder – the sled sunk like an anchor.
The boys tried using their feet to scootch themselves forward. Then they tried pushing each other. Finally, with heart-tugging pleas, they asked me to push. I shoved them down the mountain one heaving push at a time. "Faster, Mom, faster!" they yelled.
We named that sled "Kill-her." Which it nearly did.
Erik's later design of the ultimate sled stemmed entirely from teenage sloth. Erik, Mark, and their friend Matt had become steadfast camping buddies. Experienced Boy Scouts by now, they regularly took off adventuring into the Chugach Mountains. They all agreed that the worst thing about winter camping was getting up in the morning and stepping into cold boots to break camp.
So, they decided to solve their cold morning dilemma by building a sled that would double as a tent. In the morning, rather than break camp, they could push off down the mountain, never once getting out of their sleeping bags.
The boys cut the ends off two expedition sleds and bolted them together to make it long enough to lay in. Then they hand-sewed a tarp into a tubular shape with a draw string, something to slip over their sleeping bag as they lay in the sled.
On the day of the sleeper sled's test run, we trudged up the mountainside in what was quickly developing into a winter storm. Stepping in each other's tracks and leaning into the wind, we moved silently, like some grim scene from a Jack London novel. The dog's face and eyelashes were crusted with swirling snow. All this, for the sake of not having to get up in the morning?
Erik climbed into the sled and pushed off with the other boys in close pursuit. In whiteout conditions, a distant "Yippee!" drifted up the hillside.
The dog's leash was attached to my backpack and at the sound of kids on sleds, she yanked me off my feet and into my own sled where we careened down the hill, through alder thickets and snow-covered boulders. Finally, I catapulted out of the sled and plowed head first into the snow. The dog waited impatiently while I dug snow from inside my collar. A distant "Aaaaaaaargh!" wafted up the hill and once again I found myself bouncing down the mountain like rag doll on a string.
We caught up with the boys at the bottom of the hill. It turns out the tarp had torn out of the sled, leaving Erik riding in a blue tube, with the cord from the sled wrapped around some, let's say, delicate areas of his anatomy. Limping and laughing, the boys agreed they had a pretty good idea going. They just needed to refine a few design features. The "Blue Rocket" was getting closer to the best sled ever.
Sometime during their high school years, the boys discovered that the ultimate sled was a pair of downhill skis attached to their boots. While it didn't solve the winter camping dilemma, it did fulfill the boys' need for speed in Alaska's backcountry. Climbing up places like the Lane Glacier in Hatcher Pass and TinCan in Turnagain Pass wore them out.
Meanwhile, the dog and I have taken up cross-country skiing. It the quest for the ultimate sled, I'd forgotten how serene winter can be.
xxx
top
Alaska's Adaptable Animals
How Critters Weather Winter's Cold
Living in Alaska means being at home even when temperatures plunge deeper than thermometers have readings; when the wind out-howls the wolves; and when the long night cloaks the landscape in darkness.
Creatures of the north manage harsh arctic conditions through a variety of biochemical, physiological, morphological and behavioral strategies. In other words, while we humans – hairless, subtropical species that we are – need boots and mittens to survive, arctic animals have built-in mechanisms to cope with the cold.
Moose, for example, are designed for the north country, with long legs and wide split hooves for walking in deep snow. Their lower basal metabolism in winter reduces their food requirements. Even so, they must consume 20-40 pounds of forage each day to keep from starving. Because of their size, large animals like moose have higher body temperatures and lower cooling capacities, which keeps them warmer in cold weather.
Bison also have relatively heavy bodies, but their small hooves and short legs make it more difficult to move in snowy conditions. Bison prefer windblown river bars in Alaska.  When they do encounter deep snow, they swing their heads from side to side to clear an area in search of food.  Like other large mammals, bison gain a lot of weight in summer and fall to support energy needs in the winter.
Muskox enjoy the warmth of a dense undercoat called qiviut. A wind and snow-proof overcoat tops this specialized wool. They too prefer windblown areas and spend long periods lying down in winter. This is due perhaps, to lower quality foods that require longer rumination; like cows, muskox chew their cud. This mellow activity also conserves energy, reducing their need for food.
Caribou use their broad two-toed hooves as shovels, pawing through snow to reach ground-level lichens; a mainstay of the caribou diet. The hollow hair of their winter coat provides extra insulation. Pregnant cows don't shed their antlers until they give birth in May or June. Biologists believe that antlered cows dominate antlerless bulls at feeding sites during the winter, assuring sustenance for their unborn calves.
Dall sheep and mountain goats move to south-facing slopes to avoid deep snow. Their small hooves are not good for shoveling, so they browse on whatever woody plants peek out from under white cover. Their fur provides camouflage in winter; a time when they are especially vulnerable to predators.
Bruins become huge recycling machines during the months they hibernate.  Unlike some animals who enter a catatonic state during hibernation, bears simply sleep deeply. Grizzlies, or brown bear, feast voraciously on salmon and berries during the summer; enough to supply energy needs for six months without eating. Occasionally they come out of their dens to stretch and move around. They don't need to eat or relieve themselves, however.  According to wildlife biologists, ammonia – a waste product normally discharged in urine – is excreted into the bear's saliva and then swallowed. Bacteria in the animal's system turns the normally toxic substance into protein.
Polar bears, except for the pregnant females, hunt for seals and other marine animals all winter long. White hair reflects sunlight down to their black skin, which absorbs heat. A thick layer of fat insulates them from cold temperatures. Expectant mothers den up in late October or November and emerge again in late March or April with cubs in tow. Their milk is rich in fat, which helps cubs maintain body temperature and grow rapidly during the four months before they leave the den.
Ptarmigan are a mainstay of predators' diets. They turn white in winter, molting their brown summer plumage to better hide from hungry carnivores. Horn fringes on their toes act as snowshoes, and feathers on their feet help keep them warm.  A large crop allows ptarmigan to gather food quickly, then grind up and digest it later under cover. Ptarmigan often roost together under snow for insulation against cold temperatures.
While we humans wrap our hands around warm mugs of cocoa, don an extra pair of socks and throw another log on the fire, the animals outdoors are doing what comes naturally. They are staying warm in spite of winter's chill.
Pining for an Alaskan Spruce
Our lot-bought Christmas tree could have won a prize for perfection. Its limbs branched evenly out of a straight, sturdy trunk. The top tapered into a symmetrical point, just right for a Christmas star. It even had a few sparkles of flocking to edge its green boughs.
We hated it.
More than a dozen years ago, through a variety of circumstances, we found ourselves living away from our Alaskan home for a few seasons. As Christmas approached, we realized that our Alaska custom of cutting our own tree would not work in this new urban landscape called a "city."
Our sons Erik and Mark, who were 6 and 5 years old at the time, were perplexed. What did we mean we couldn't cut down a tree? There were plenty of trees in the park on the corner. There were some trees in front of the post office. A couple of trees even stood in the neighbor's yard.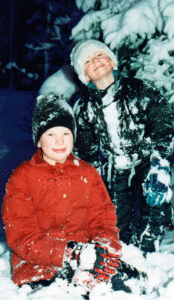 My husband, Todd, and I sighed. How do you explain that trees can actually belong to someone? To these Alaskan kids, taking a tree from the woods was like taking a grain of sand off a beach.
Our memories of tree cutting in Alaska cast a pall over the perfect trees lined up in the city tree lot. We remembered the year the snow was so deep, that all we saw of our Labrador retriever was her tail periscoping through the snow. The dog sneezed as she plowed along, occasionally surfacing to grin at us before diving back into a cold, white sea. Even the kids seemed to be swimming. That year we dug down four feet of snow to find the base of the trunk.
Another year, an unrelenting cold snap kept us from venturing out until the last minute. Finally, temperatures inched upward to minus 10 and we grabbed our sled and a saw. Selection of a tree in such temperatures tends to be hasty. Even so, certain rituals must be observed.
First, we argue whose turn it is to wield the saw.
"Mom, I remember very clearly that Erik cut the tree last year."
"You were hardly even born a year ago."
"Yes, but I REMEMBER!"
"Let's flip a coin."
"That is not FAIR!"
Once we've chosen our tree, we honor it with a loud rendition of "Joy to the World." Then the saw comes out, a few short rasps work through the two inch trunk and everyone yells, "Timberrrrr!" The poor thing has already fallen on the first syllable, but we yell anyway.
Todd carries the tree one-handed overhead, careful to preserve the few precious branches. An Alaskan spruce tree, frosted with a thick layer of snow, looks like a picturesque winter postcard. Shake the snow off, thaw out the frost and a whole new tree emerges. Most visible is the two-inch trunk, shaggy like a three-day beard.  Ragged branches protrude from the trunk, with 10 or 15 limbs total on a good tree.
Decorating the spruce takes certain knowledge of load-bearing physics. We came home one evening to a disheveled baby-sitter and kids snorting with laughter. The baby-sitter's hair was undone, her mascara smeared.
"Your tree attacked us!" she stammered, looking with narrowed eyes at the spruce propped in the corner. It turns out the thing had toppled over while she and the kids sat on the living room floor watching Christmas specials. Someone had obviously draped too much of the popcorn garland on one side of the tree.
Trees from a city tree lot may be safe and predictable, but the year we spent Outside, we pined for an Alaska spruce.
Christmas lights flashed and carols played over tinny loudspeakers as we stood at that tree lot in a busy intersection. Rain drizzled as the kids rebelled at the many perfect specimens lined up before us.
"First," announced 6-year-old Erik, "We HAVE to sing 'Joy to the World.' VERY LOUD."
We tried to convince him we weren't in Alaska, and this might be embarrassing amidst other tree shoppers. He didn't care.
So we stood in a circle and sang "Joy to the World" at the top of our lungs.
Mark's eyes filled with tears. "When do we get to say 'Timberrrrr!'?"          We assured him that someone had probably already said it when the tree was cut two months ago. He didn't care.
"This is NOT a Christmas tree," he said, kicking sawdust, his bottom lip quivering.  So we yelled "Timberrrrr!" as red-faced Todd shelled out 75 bucks and hustled the tree out to the car. Christmas just wasn't the same that year.
We've been back in Alaska for some time now. Our boys are grown and we have two grandsons who we will pull on a wooden sled this year as we cut our Alaska spruce at the old homestead. We'll sing "Joy to the World" with a new generation, and once the tree has thawed, we'll decorate it. Even with strategically placed ornaments, our tree will still resemble a toothless smile.
That's okay. We'll take our Alaskan spruce Christmas tree. Perfection will have to remain in the tree lots of the world.
Giving Thanks for the Little Things
My husband and I recently saw tundra swans swimming on Wasilla Lake and we commented that they are late getting out of town this year. I know that feeling of running behind. I've only recently rolled up the garden hoses, mulched the new apple trees, and fixed the door on the goat barn – barely in time for our fist snow. Thanksgiving is just around the corner.
While we are certainly thankful for the big things like our health and our jobs, our home and our family, it is often the little things that draw attention to life's abundance. Things like a sturdy pair of boots and soft-worn gloves to do chores around the place. Things like a hearty stew in the crock pot or a warm loaf of pumpkin bread, fresh from the oven.
We've turned on the heat lamp for the chickens that have suddenly, in this sixth month of their young lives, begun an exploding production of eggs. (What were we thinking when we bought 20 chicks?) Our poor turkey is boycotting the coop. My husband suspects there's too much estrogen and noise in there for the old boy to handle.
We have yet to put up a new bird feeder. Last year's feeder was pummeled by wind storms; the wreckage still dangles off a tree. This year we will try to secure the feeder so that nuthatches and chickadees can dine even on windy days. The feeder is safe from our cat's predatory glances; she's too busy hunting voles in the barn.
These cooler temperatures energize the horses. They romp and play like spring colts on frosty days. Their coats are growing thicker in preparation for the deep cold of winter. The freezer is stocked with moose meat, the salmon has been canned, and it is a quieter season to reflect and give thanks for the bounty of the year.
One of our greatest gifts this year has been the arrival of a little person in our midst – and he will not remain little for long. Our newest grandson is almost seven months old, sitting up now, crawling and quite possibly ready to present his first tooth to the world. His name is River, a reminder of Alaska's countless scenic rivers and streams. His name is also a reminder of the way life begins as a trickle, one that dances and laughs its way across the sunny slope of childhood. Like a stream, River will grow and gain strength in the midst of the family and friends who nurture and uplift him. Soon enough, his life will become a rushing river that moves through mountains and valleys, always seeking the next turn in the bend, always looking to the sky and to his faith for renewal.
Meanwhile, our older grandson Elias who is now 2 1/2, can show his little brother the ropes around here. He can show River how to feed raisins to the goats. (A handful for you and a handful for me.)  He can teach his brother how to collect eggs from the nest boxes and plant peas in the garden. Together they can adventure in the woods by the creek, climb trees, and pelt each other with alder berries. And they can throw endless sticks to the everlasting enthusiasm of our Labrador retriever.
The change of seasons, the birth of a child, and the warm scent of baking bread fills us with gratitude. Even in these darker, colder days of winter, there is much to celebrate. Here's wishing you and yours a Happy Thanksgiving.
top
Back Country Horsemen Advocate for Alaska Trails
Autumn is nearly ripe for the picking and it won't be long before a brisk north wind plucks the remaining leaves from the trees. The season seems to be calling all outdoor enthusiasts to enjoy these golden days between Alaska's manic summer and the quiet splendor of winter. On a recent sunny Saturday, I loaded up the horse and dog and headed to the Eklutna Lake trails where the Chugach Mountains glowed in a spectacle of fall color.
Dozens of hikers, runners, bikers and families took the same opportunity for a stroll that day. The trail stretches thirteen miles alongside and beyond Eklutna Lake and may well be one of the most scenic multi-use trails in Alaska. What impressed me was the courtesy that trail users extended to each other on that busy autumn day. I've ridden the trail on the same days that ATVs are allowed, and the same generous consideration came into play. I found this especially gratifying, knowing that various user groups of Alaska's trails sometimes view each other contentiously.
The trails available to ride horseback in Alaska are surprisingly limited. In my quest to find more places to ride, I recently attended a meeting of the fledgling Back Country Horsemen of Alaska (BCHA). The group formed as an affiliate of the national organization (www.backcountryhorse.com) about a year ago. I thought maybe they'd have a few trail maps to share. Instead, I discovered that they are an advocacy group that works to perpetuate common sense use of horses in the backcountry. They help maintain and manage trails while educating the public and riders about the responsibilities of wilderness travel. A major focus of the groups is a "Leave No Trace" ethic to backcountry horse use.
For a small local group, they already have big plans. One is to join forces with other user groups to help maintain trails in the area. Another is to advocate public policy that takes horsemen into account as new trails are built. And finally, the group wants to spend time on horseback in Alaska's spectacular wilderness.
"Back Country Horsemen is working with land managers to preserve, improve, and maintain trails for horses," said BCHA president Nick Cassara. "We want to be recognized as a positive entity."
Already this summer, members of Backcountry Horsemen of Alaska helped Boy Scout Troop 325 with a pack trip to Wishbone Lake. The group provided 16 horses for 16 boys plus parents and troop leaders. The Scouts had an opportunity to learn about packing, horse care, and low-impact wilderness camping. Other summer events included a trail ride on the moose range, a horse packing demonstration, and a horse shoeing talk. Members-at-large are already attending borough and agency meetings to advocate for backcountry horse use.
While I didn't get the maps I was hoping for, I did discover a clear path to helping preserve and protect one of Alaska's most treasured resources – its backcountry trails. Back Country Horsemen of Alaska meets monthly at the Mat-Su College. The group needs volunteers and sees itself as an umbrella organization for a variety of horse and trail groups. (For more information, contact Nick Cassara at 746-4643.)
After my ride at Eklutna Lake, I let my horse graze for a few moments in a sunny meadow below the spires of the Chugach Range. It was a perfect day, made better by the cordial sharing of this amazing place with other outdoor aficionados. It's the kind of sharing that BCHA hopes will be reflected in future trail use around the state.
As the amber autumn light shimmered on golden leaves I remembered Tom Reed's words in his book Give Me Mountains for My Horse: "There's something about mountains and horses. Taken alone, they move your soul. Taken together they move your life. . . ."
top
Barn Buff Restores Valley History
One of the interesting things about moving to a new town is discovering how the fabric of a community is held together. And by picking up a strand, you find yourself meeting up with some colorful people.
Earlier this year, I wrote a story about the Colony barns of the Matanuska Valley. Based on estimates from the local historical society, I wrote that a dozen Colony barns remained of 200 original structures. A reader emailed to say that he knew of 49 existing barns in various states of repair. So I called Fran Seager-Boss, the Matanuska Susitna Borough cultural resources historian.
"Who sent the email?" she asked.
"Doug Olson."
"Well, Doug would know," she replied and encouraged me to contact him.
Months later, I stood in front of two refurbished barns on the corner of Trunk Road and the Parks Highway, the handiwork of Olson and fellow barn buff, Mark Loomis. The building had been restored and made into retail space. Flowers, antique milk cans, and benches made from old tractor wheels decorated the entrances to a gift emporium and coffee shop.
Olson says it all began twenty-some years ago with a claw foot bathtub. He wanted the tub for the home he was building but couldn't find one in Alaska. So he went looking in the Lower-48. In his quest to find a bathtub, Olson found himself immersed in the world of antiques. Since then, he has hauled up two flatbed truck loads and five semitruck loads full of antique furniture, tractor wheels, tin ceiling tiles, and old harvest equipment.
His love for antiques grew – to include old barns. Originally from South Dakota, Olson grew up watching historic barns sink into the ground.
"No one saw their value," he said. It seemed especially distressing that the old Colony barns were disappearing since they represented such a unique aspect of Alaska's history. The barns, plus a few homesteads, are all that remain of one of FDR's 1930s New Deal recovery programs. In exchange for 40 acres, a house, a barn, and equipment, farmers from Wisconsin, Minnesota, and Michigan relocated north to help settle the Alaska territory. The Matanuska Colonists were asked to clear the land and grow a harvest to feed the developing region. Although Colonists had five house designs to choose from, there was only one barn design, a 32×32 foot structure constructed on pilings made of spruce.
Before its rescue, one of Olson's refurbished barns (known as the Jensen barn) was slated in 2001 to be burned as a training fire for the Mat-Su Borough Fire Department. Another barn, the McCormick barn, was offered to Olson after the building adjacent to the historic barn accidentally burned to the ground. It was originally located off the Palmer Fishook Road. "They just wanted to clear the place after the fire," Olson explained.
Having accumulated more than 20 buildings to date, Olson's hobby has made him the resident expert on the restoration of historic structures. A mason by trade, Olson says he refuses to think about the hours he has spent restoring sagging roofs and rotting walls.
"Financially, it doesn't make any sense to do what I'm doing," he said. "I just hate to see them disappear."
His most recent project is the historic Wasilla Post Office. The building was reportedly built by a blacksmith named "Forty Mile Miller" in the 1920s.
"It was obviously built by someone other than a carpenter," Olson said. The building was first used as a card room and cafe and later became the post office. Today it sits near the restored Jensen and McCormick barns off of Trunk Road – another colorful remnant of Alaska's frontier days.
Curiosity about local history had me wandering in Wasilla's Historic Townsite just off of Main Street recently. Seeing the names on the old buildings made me realize that the strands of a community are tied together not so much by buildings as by people. Passionate collectors like Doug Olson. Characters with names like "Forty Mile Miller." And with a little luck, maybe even newcomers like us.
top
Riders STRIDE into Horseback Therapy
There's nothing so good for the inside of a man as the outside of a horse.*
Nowhere is this adage more evident than during a session of Southcentral Therapeutic Riding (STRIDE). At Kathy Gliva's EKG Stables in Peters Creek, children and adults with disabilities mount up for therapy unlike any other.
Riders radiate ear-to-ear smiles as Gliva directs horseback games in the arena. Jared, a seven-year-old boy learns how to better focus on his tasks; seven-year-old Amber improves her hand-eye coordination; and Tim, a 19-year-old, engages more fully in his environment when the horse jostles him at a trot.
Meanwhile, two side walkers give support on each side of the rider while a volunteer leads the horse. Gliva explained that the games and exercises improve posture and balance, increase head and body control, and stimulate learning.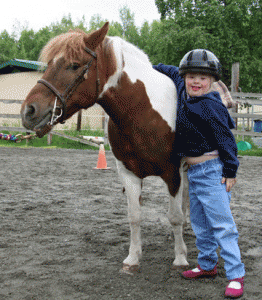 Riders and volunteers gather twice a week for two four-week sessions during the summer. Gliva helped found STRIDE in 1988. At the time she was a volunteer for an Anchorage-based therapeutic riding program.
"I met a 25-year-old rider who had been in a wheelchair all his life," Gliva explained. "When he rode a horse for the first time, he lit up and said, 'So this is what it's like to walk.' I knew I had to be involved in that."
Gliva has a degree in Recreation Therapy and had been involved in the horse industry since 1983. She became a certified instructor for the North American Riding for the Handicapped Association (NARHA) and helped start STRIDE to offer opportunities for riders from Eagle River, Chugiak, Wasilla and Palmer. Today the organization has over 50 volunteers and nearly 30 riders who benefit from time spent in the saddle.
The healing and regenerative results of equine therapy have been known since the 1950s when therapeutic riding was used in Europe to improve the lives of people with disabilities. The movement of the horse simulates the human gait. The warmth of the horse relaxes muscles and eases spasticity. And for someone who has always had to view the world from a wheelchair, the sensation of looking down from a horse's back can be transformative.
Glacier Morrow, 13, from Wasilla has been riding with the program for the last three years. Glacier looks forward to every opportunity to ride.
"He loves it here," his father Mike Morrow said. "It's just a wonderful organization; there's lots of good energy here. These people have been so good to us."
In thanks, Mike Morrow built a storage shed at the stable to house STRIDE's helmets, adaptive saddles, and other equipment. It's the kind of gesture that the organization needs to keep running.
Executive Director Sharilynn Mumaw says that fundraising for STRIDE is a continual challenge. With the expense of feeding horses and the rising cost of insurance, making ends meet can be a scramble. Along with funds, she said the organization also needs more certified instructors and would like the use of an indoor heated facility for the winter months. For now the STRIDE only runs two months during the summer.
The program is labor intensive, with three volunteers to one rider. Volunteers must attend a two hour hands-on and video training session. STRIDE owns one horse; other horses have been volunteered for the program and all horses are thoroughly tested for suitability.
Monica Devine, Eagle River, recently volunteered with STRIDE and came away from her first week energized by what she experienced as a side walker. Divine has worked for 25 years with special needs children as a speech pathologist.
"I love horses and I love working with people with special needs," she said. "These kids are so excited about it."  She saw first-hand how STRIDE's cognitive exercises aid learning and how the balancing exercises improve motor skills. She also saw the benefit of developing an emotional connection to an animal.
"I would encourage anyone to volunteer or become involved in the organization," she said. "A little bit of help from a lot of people will go a long way."
For example, she said $10 buys a STRIDE button. Kathy Gliva added that $20 buys a bale of hay, $100 buys a helmet and $450 supports a horse for one month.
Horsemen and women have always known the joy of being in the presence of horses – their gentle eye, pleasing form, and willing attitude make horses agreeable companions. STRIDE riders enjoy both the companionship and the physiological benefits of horseback riding. While every rider is unique, horse lovers everywhere share in a bond of one of life's most exquisite pleasures – the magic of the horse.
***
For more information about STRIDE, visit their website at www.stridealaska.org.  For more information about therapeutic riding visit the North American Riding for the Handicapped Association (NARHA) atwww.narha.org.
###
*This quote was first attributed to Henry John Temple, Viscount Palmerston (1784-1865) but has been used by Winston Churchill, Teddy Roosevelt, and Ronald Reagan.
top
Elliot's Quest for Alaska's Perfect Apple
The scent of apple blossoms drifted through the early morning air. Sunshine bathed the orchard as a gentle breeze tugged pink and white petals from the trees. At harvest time these heavy-laden trees produce bushels of apples the color of roses — from deep red to bright yellow and a blushing variety in-between. This spring scene and abundant harvest unfold seasonally just a few miles down the road from our place at Dan Elliot's orchard.
Who knew that fruit trees could grow in Alaska? Or that apples even came in the 121 varieties that Dan grows in a sunny patch of ground overlooking Knik Arm?
We had heard about Dan's orchard long before we saw his "Apples" sign alongside the road on Fairview Loop last fall. We pulled over and walked up his gravel driveway. A large lumbering fellow, Dan towered over the baskets that lined his front porch. He sliced apples with his pocket knife, handing us sweet samples as he explained the names and uses for each. He also offered us samples of homemade apple cider and talked about which apples were best to use for cooking and which ones stored well.
Our son, Erik asked for a tour of the orchard and my husband explained that we were thinking about trying a few fruit trees in our garden. We wondered if he might give us some advice. Dan happily agreed and showed us the careful way he wraps the tree trunks with white plastic to protect them from nibbling mice and voles. Moose are more difficult to manage, but he has a fence on three sides of his orchard and a bluff that drops steeply into the mudflats of Knik Arm along the back side of his property.
Dan started growing apple trees when he lived in Talkeetna in 1985. Between the moose and using nursery varieties ill-suited for the climate, he didn't have much luck. Then he took a grafting workshop from long-time Valley farmer Jay Dearborn. The science and art of grafting opened limitless possibilities for growing fruit trees anywhere – even Alaska. Today Dan uses hearty Russian crab apple root stock and innovative grafting methods to produce varieties that otherwise would not be possible to grow here.
"Grafting is a method of cloning," he explained. "The Romans took grafting to England even before the time of Christ. Grafting was how they propagated new species."
Dan also picked up tips from pioneer fruit growers Clare Lammers in Fairbanks and Lawrence Clark in Anchorage. He joined the Alaska Pioneers Fruit Growers Association, die-hard enthusiasts who meet regularly to tour each others orchards and to pass along hard-won lessons in growing fruit in the North Country.
Dan eventually moved to Anchorage and later to Wasilla. For the past 13 ½ years he's been perfecting his craft at his current location – a little like a mad scientist, always thinking about the next variety he might like to try and how to best achieve it.
"It's hit or miss. Some do well and others don't," he explained. "But when it goes well, you know you've really done something."
Not only are Dan's apple varieties popular, so are the trees themselves. The University of Alaska Fairbanks recently contracted with him to provide 300 grafted trees for their research.  "People have been starting to ask me to sell them trees," he said.
People, as it turns out, like us.
We went home that fall day inspired by Dan's workWhen spring arrived, we ordered 30 trees. And recently I went to visit when his orchard was in luscious full bloom.
Our son is building a fence to keep the moose out and we . are composting to improve the soil where the trees willbe planted. Meanwhile, Dan has done his magic with grafting. Our little stick-like trees are sitting in a row of pots at his place, awaiting their new home. Dan says that if all goes well, in three years we will harvest sweet, colorful apples of our own.
(For more information and a list compiled by Dan Elliot of apple trees and their suitability to Alaska, visit the Alaska Pioneer Fruit Growers website at www.awpfg.org)
Wings of Spring
Spring is a season of surprises. When my friend, Linda, saw the first green blades of grass pushing through warm soil on the south side of their barn, unexpected tears of gratitude sprung to her eyes. Spring does that. It catches you off guard with moments of grace.
Spring's arrival happened in a new way for us this year. In other years, we noticed how the maturing buds on birch trees cast a red shadow across an otherwise gray hillside. Or how the scent of dirt tugged at some innate impulse to dig in the garden. But this year a great symphony of birds proclaimed the change of seasons.
It began about three weeks ago during early morning chores to feed the animals. A flock of Canada geese flew so low I could hear the whoosh of their flapping wings. "Welcome back," I thought as their calls pierced the cool air. But that was only the beginning.
In the coming days and weeks, more geese flew overhead and soon the bugling of sandhill cranes joined the growing opus. In my dog-eared copy of Guide to the Birds of Alaska, Robert Armstrong describes the voices of sandhill cranes as "loud, trumpet-like calls that sound somewhat like the cross between a French horn and a squeaky barn door."Lately the haunting trills of the tundra swan have added a quavering vibrato to the mix. And the cry of seagulls has replaced the winter squawk and warble of the raven.
Cranes flew overhead as the farrier worked on my horse's feet recently. I mentioned to him that this area seemed to be a migratory pathway. He suggested that I visit a field near the Palmer airport where this time of year thousands of migratory birds feed and roost each evening. I was not disappointed. Canada geese, snow geese, cranes, and even ducks vectored in from every direction. People in cars lined the road along the field to watch.
"How do they know to come here?" I wondered. "And what is so special about this field?"
Wildlife biologist Herman Griese explained that the Matanuska Valley is an important staging area for migratory birds on their way to breeding grounds farther north. The ground warms up relatively early and the birds can see the soil. It is a place to rest and replenish their fat stores after traveling from as far south as Texas and as far east as Chesapeake Bay. Some of the birds still have a long way to go. Snow geese will travel as far as Wrangel Island in Russia before their journey ends.
The appeal of that particular field in Palmer lies in the richness of grain and its safe harbor from predators. "The birds see other birds feeding," Herman said. "It's like fishing – if you see someone catching fish, you'll start to see other fishermen squeezing in on that spot."
So that's what these birds were doing – combat feeding.
Back home, as the evening air turned cool, I gave my horse his nightly apple and then went into the barn to check on our new chicks. They are only a few weeks old, this fresh flock of laying hens, and we have taken to talking to them so that they become familiar with our voices. So I told the chicks about their relatives – the geese and cranes and swans. I told them about noble and epic journeys across the land. About how our farm is just a speck of soil beneath the wings of these great traveling birds of the North.
The chicks peeped and cocked their heads up at my voice – not so unlike the way I had earlier looked up to watch the migration of birds overhead – and I had to laugh. As the days grow longer and red buds break into the green leaves of summer, it is good to remember the travels of both the birds and the seasons. And to pay attention to spring's surprises.
Crazy Creek
We have been quarreling with nature these past few weeks. The unrelenting frigid temperatures of March – which may go down as the coldest on record –put us at odds with the creek that flows along the far end of our property.
Our first clue of trouble began with a puddle that appeared late one afternoon below the goat pen. The open water seemed strange, since it was only three degrees outside.  We quickly discovered that our growing pond was really just a small opening to a vast lake of water underneath the snow. The creek that normally stays open all winter had finally succumbed to the cold and was frozen solid. That left no place for water to go except low lying areas beyond the creek's banks. As it turns out, we have a lot of low spots on our property.
Our little creek seemed so innocuous last summer when we first moved here. Fed by an artesian spring, it chuckled gently downstream – six to eight inches deep and three feet at its widest. Tongue in cheek, we even named our section of the creek, "Johnson River." Our neighbors downstream named their section "Robison Creek" and so on down the line until the trickle flowed into Cottonwood Creek and eventually Cook Inlet. It ran clear and friendly along a sandy creek bottom, charming us the way a diminutive tea set might or a miniature horse.
Our small waters kicked like a mule however, in what will become known in our family as "The Flood of '07." We rented a water pump and attempted to pump water back into the creek. Temperatures continued at zero degrees and our strategy worked only until the hoses froze. At this point we hauled the pump and hoses back into a heated garage and started the process all over once everything thawed out again.  Even with the pumping, water continued to rise, moving inch by inch toward the animal pens. While my husband used a splitting maul to chop a channel in the frozen creek, I built berms around the horse corral using birch logs, plastic sheeting, and snow. We shoveled and chopped and pumped by day. By night we listened to the pump and lay awake wondering whether to pull the hoses before they froze up again. Watching the weather forecast became the focal point of the day.
Meanwhile, the neighbors upstream began to notice a lake forming in their yard. Our neighbors don't have a barn but they do have a daylight basement and they understandably were stricken by the maddening march of water toward their home. We talked on the phone, talked over the fence, met at the road and talked some more. We contemplated having a steam-thawing outfit come melt the ice, but that would only work if everyone along the creek agreed to do the same. We even tried fighting water with water by running hot water from the house. After two weeks of continuous work, the flood broke through the snow dike into the horse corral. We were stupefied with fatigue and disbelief. We had tried everything – now what were we supposed to do?
The following evening our neighbor knocked on the door and announced he had rented a jackhammer to punch a deeper channel into the creek ice. For two days, he and my husband worked at hammering, chopping, and scooping ice. During those two days the weather finally smiled on our efforts with near-30 degree temperatures. Spring almost felt like a possibility as sweat from the men's brows mingled with flood waters and creek ice.
Finally – mercifully – water began to flow downstream again. More than any human efforts, the change in weather created a breakthrough in our crisis. Water had risen enough on both our properties that the lowest point suddenly became the creek bed– and water began to flow downstream again.
"The creek decided to go home," my weary husband said. And we all slept better that night than we had in weeks.
We've been in Alaska for over 20 years and it still can surprise us. Did the winds this year not seemed cataclysmic at times? During one storm, the wind picked up our 17 foot aluminum canoes and tossed them like toys into the yard. Several trees toppled over, and one morning my horse had a cut over his eye, presumably from flying debris. In places like Detroit, such weather would make headlines. In Alaska, it hardly makes local news.
When we moved to the Valley last summer, we thought we had come to own a little section of a small creek. But nature has reminded us that it belongs to no one. Creeks and rivers flow where they please. The sun shines (or not) and the wind blows without regard to our circumstances. Cold temperatures hold fast regardless of our impatience for spring.  If anything, the creek has owned us these past weeks as we worked day and night to divert water away from our buildings.
Aside from the promise of a soggy mess come breakup, our creek has given us a taste of the resolve and resources that the pioneers must have had before the days of electricity, natural gas, and the tool rental department at Home Depot. It has certainly helped us get to know our neighbors. And it has reminded us once again that we are small against the powerful forces of the natural world.
Eagle River Nature Center Nurtures Love for Wild Places
Our boys, just two and three years old, bounded like puppies down the Rodak Nature Trail, full of questions and enthusiasm.
"Can we eat those berries?"
"When can we climb that mountain?"
"Are we going to see a bear?"
That was 21 years ago, and we had just arrived in Alaska. We were driving around looking for a house in the community we would soon call home, and quite by accident, we drove to the end of Eagle River Road and discovered the Visitor's Center. Behind the log cabin rose a vista unlike anything we had ever seen. Jagged, snow-covered peaks reached into an azure sky. The river valley, at once inviting and formidable, cut a sharp V into the horizon. The scene drew us in like a deep breath of fresh air. We inhaled the green scent of the wild and could not leave. So we hiked to the viewing decks and leaned over to watch salmon smolt darting in the clear water.
Back at Center, we went inside the log cabin where the boys held bits of animal fur, placed their hands over the paw print of a bear, and guessed at the objects in the nature cubbies. We left reluctantly, but vowed to return. Little did we know how much the nature center would be an anchor and an inspiration in the life of our family.
Built in the early 1980s, the Eagle River Visitor Center was operated by Chugach State Park. Many of us were heartsick when in 1995, budget cuts threatened to close the facility. A group of ardent fans – namely Dick Lloyd, Carole Lloyd and Asta Spurgis – formed a non-profit organization called Friends of Eagle River. Eventually Friends took over the stewardship of this remarkable place. With the help of hundreds of volunteers, Eagle River Nature Center is now open year round offering weekly interpretive programs to the public. A public-use cabin and two yurts provide comfortable overnight stays in the wilderness, and the network of trails continues to arouse in us a fervent joy for the outdoors through every season. This year, Friends of Eagle River celebrates its 11th anniversary and has received a long-term contract by the State of Alaska to continue its operations.
Our children cut their teeth on the wilderness beginning at the Eagle River Nature Center. We first heard wolves howling in the backcountry from the Nature Center's trails. While the sound thrilled and filled me with awe, my little boys' eyes grew wide. Their reaction seemed more primal as they scurried to the safety of their mother's embrace.
Since then, the boys have ventured from the nest and embraced wild places with a passion all their own. In elementary school, the boys took field trips to the Nature Center with their classmates. By Junior High, the viewing decks were just a quick side trip on their way somewhere else down the trail. Along with their Boy Scout Troop, the boys helped build a bridge over the flooded trails near Icicle Creek – roughly six miles from the Center. By the time the boys reached high school, they were skilled enough in the outdoors to happily camp with friends at Echo Bend in minus 20 degree temps.
For me, Crow Creek Trail became a favorite hike. My friend Terri showed me how to make it a day-hike rather than a two-day backpacking trip. It has become a rite of summer to make this 26-mile excursion. And there are the countless soulful treks to the river itself. It has been a place where time after time I have drawn parallels between the river's seasons and my own; where I can think clearly about the world and my place in it.
One evening in late summer I came to the Nature Center to clear my mind and to think about my sons. I was missing my little boys who had too quickly grown up to become young men. I sat quietly, listening to salmon splash below the beaver dam. A mist gathered over the water as twilight descended.
Then, like a ghost, he appeared. On the other the side of the dam, a brown bear ambled into the middle of the stream and sat down in the water facing me. He dunked his head and then looked up, unconcerned by my presence. Water trickled off his ears and snout. He was sunny brown, an adolescent bear, maybe two years old, around 400 pounds. Still sitting, he lifted his front paws out of the water and then, comically, he allowed himself to fall over backwards. He rolled over, got back on all fours and then sat down again and watched the salmon. He didn't appear hungry or intent on anything in particular. He was lean and lanky, gorgeous and just a little bit goofy-looking. Then as quickly as he appeared, he wandered off, his motions fluid and effortless and quiet.
Had I not been anchored by the weight of my own body, I might have flown with euphoria, lifted up and out of my skin into the cool evening sky by consuming joy. Was this not a sign? A reassurance that the natural order of things – including my sons' move toward adulthood – is magnificent indeed?
Today we have a grandchild who is the same age that our boys were when we first arrived in Alaska. Now our son, Erik, takes his own son and wife to the river. They have a special place along the river bank where they talk and play and watch salmon spawn in clear still waters. I imagine they make plans for the future, talk about their dreams, and laugh. I know they are rooted in a place unlike any other, one that affords them a wilderness perspective that is dwindling in today's world.
While the Center began as our portal to Alaska's wilderness – an accessible place to experience what Chugach State Park had to offer – it has become a good friend, always there when we need a quiet space to grasp what is real and right in the world; whenever we need the mountains or river or sky to cure what ails us.
Notes from the Farm: Turkey Trouble
All is not well in our animal kingdom these days.
When we adopted two full-grown turkeys last summer, they were named "Thanksgiving" and "Christmas" by their previous owners. I decided to rename them "Red" and "Blue" since I had no intention of butchering either of these critters for a holiday meal.
When I announced the turkeys' new, kinder and gentler names, I detected a faint rolling of eyes from my husband and sons who saw no reason not to carry out the previous owner's original objective. Their silent glances behind my back spoke loudly, "Mom's lost her marbles."  Not only are we an avid hunting and fishing family, my husband and I grew up in rural North Dakota where the cycle of life and death is as matter-of-fact as the rising and setting of the sun. Yet when we moved to the Valley, I had the notion that our new farm would be a small Eden of civility, where animals could live out their lives as peaceful pets.
Until recently, the goats, chickens, horse, dog, cat and turkeys have obliged my notions of happy harmony. Without complaint they accepted the human toil (and expense) of feeding, watering, cleaning pens, exercise, medical care, and occasional treats.
Then suddenly, inexplicably, the turkeys declared war on each other. Their new names were meant to reflect their coloring, but with all the feathers flying around here lately, "Red" and "Blue" are just as divided as a map of the states during the last election.
Each day's visit to the coop reveals the gruesome results of their battles. Wounds cover their waddles. Turkey feathers litter the coop floor, some of them bloody. New sores appear daily to the patchwork of scabs from the previous day's torment. "Red" is starting to look like he's gone through a meat grinder without the courtesy of first being dispatched with a .22. He may be friendly, but is apparently no gladiator.
I implored a reader of this column for her for advice. She had offered a "critter chat" any time, and knowing she raised poultry I asked what I could do to help my turkeys get along. Surely I could employ diplomacy to a happy end.  At this point, my husband and sons snickered openly.
The kind reader suggested letting the turkeys work it out – one of them would eventually win and that would be that. When I told her this has been going on for two months, she offered her condolences.
I pondered giving one turkey away as a pet with an advertisement "To a good home . . . ."  Of course I can only give away the aggressive one since no one would want poor Red who isn't looking so good these days. What else would my ad say – "Free: MEAN turkey"?
My deliberations brought groans from my guys. "You should know that you can't have two males in any herd or flock. Just kill and eat one of them. "
The thought of it made me quesy.
"Boys are stupid," I said, which was hardly a clever response but the only thing that came to mind. Think about it. The two toms are willing to fight to the death. For what? A better perch to look out the window? First dibs on going through the coop door? Those two birds have everything they need— good food, fresh water, a roof over their heads – and still they find things to fight about.  It occurs to me that the turkeys are not so different from humans. We too manage to wage war on each other, even when we have all that we really need in this world.
All my existential deliberations did nothing to quell the violence in the hen house. I checked in with the local hatchery and they did have several suggestions. I could force a plastic device called a "peeper" through the birds' nostrils, which, once attached, looks like sunglasses with solid, red plastic lenses. The peepers keep the turkeys from seeing what they are pecking at – so they can fight, but their aim is off. Another option was to cut off a portion of the turkeys' beaks; this would make their mouths too sore to pester each other. Folks at the hatchery also offered to take a turkey off our hands – but were honest enough to say that they're in the business of putting dinners on Alaskan tables. They don't run a half-way house for wayward birds.
Well, I may be sentimental, but I've not completely taken leave of my senses. If the bird was going to wind up in someone's freezer, it may as well be ours. Even if I couldn't eat it, the guys would have no qualms.
So now the decision remains – the horrible choice must be made – which one will go? My reader friend recommended keeping the stronger of the two in case we decide to use him as breeding stock. Sound practical advice, to be sure.
My thought, however, is to keep Red instead. Red is a cordial fellow and allows us to stroke his shiny black breast. Surely his wounded head will heal, and maybe his missing feathers will grow back. Our little Eden may be just what it always was – an ordinary farm. But one can always dream that peace is possible and that the underdog – or beat-up turkey in this case – won't wind up as leftovers.
A Barn Raising
The pounding of hammers punctuates the few hours of winter daylight we have here on the farm. We are building a barn, or should I say, Bruce Hess is building a barn for our growing family of horses. We have never built or had anything built before, so watching the concept of a barn turn into a real building made of concrete and wood and nails has been nothing short of miraculous. Earlier in the season, skilled workers cleared the land, built a pad, put in footers and a foundation. More recently walls and a roof went up and the windows and doors were installed. Today workers are attaching shingles to the roof.
It makes me think of the early pioneers of this area, and the Colonists whose barns have become nostalgic landmarks of Alaska's colorful history. Midwestern farmers were among those hardest hit during the depression of the 1930s. One of Roosevelt's New Deal recovery programs recruited 208 Minnesota, Wisconsin, and Michigan farm families to relocate north to help settle the Alaskan territory. In exchange for 40 acres, a house, a barn and equipment, the Matanuska Colonists were asked to clear land and grow a harvest that would help feed the growing population of the territory.
Wayne Bouwens was five years old on May 20, 1935 when his family arrived in the Matanuska Valley from Wisconsin. He came with his parents, five brothers, and five sisters ranging in age from 3 to 18. He recalls those early days as a grand adventure when the family lived in a tent while the farm land was being cleared.
"We younger kids didn't have to clear land the next day – so we didn't see the point of going to bed when there was daylight," he said, chuckling.
One of his fondest memories is time spent in the barn after it was built.
"As kids we had to come up with our own entertainment," he said. "So we hung rope from the rafters and had a big swing with a tire or gunny sack of hay."
Not everyone was as thrilled with the barns – some farmers complained about the government-issue buildings. The colonists had five designs of houses to choose from, but only one design of a barn, a 32×32 foot structure that rose 32 feet skyward, just enough to snag the winds that came howling off of the Matanuska glacier. Constructed on pilings made of spruce, the foundations of the barns quickly rotted. They were drafty and small and most farmers had to build their own additions or reinforce the original structure to make them functional.
"They weren't designed for a lot of animals," said Bouwens. So dairy farms in particular had to make accommodations.
Leroi Heaven, President of the Wasilla-Kink Historical Society and member of the Palmer Historical Society, says that of the 200 original structures only a dozen or so barns are left.
"We lost quite a few in the 70's during wind storms. Others were lost to fire and neglect," he said. However, there is a growing interest in saving the remaining barns. "They should be preserved. They are part of our history and an important landmark of the Valley."
It has been a wonder to watch our new barn emerging from a pile of lumber in our yard. For the creatures that live here, the barn will have running water, doors and windows to shut out the cold and the wind, plenty of hay for food and straw for bedding.
Earlier this fall, we inscribed "Bless this Barn 2006" along with our initials into the wet concrete of the foundation. I thought about how someone in the distant future might come along and marvel at these ancient ruins and wonder what the world looked like in 2006. Meanwhile, I hope that this new barn will, for generations, provide shelter from the storm; that it will be a place where hands and heart meet the earthy scent of hay, the touch of warm fur, the sound of a gentle nicker that says "Oh, it's you. A place where our grandchildren can create their own childhood memories.
Once the final nail is driven – sometime early in February – the plan is to have an old-fashioned barn dance. We're thinking about inviting Wayne and Leroi and a few other Colonists or their descendents not only to pay tribute to the past, but to celebrate a new year and a bright future.
Festive Fare and a Meeting with Santa
Every Christmas day, our family makes ice cream using an old-fashioned crank-type ice cream maker.  The ice to make our creamy confection must – as is our custom – be chopped from a creek. For the past 20 years our creek ice has come from Eagle River; this year's ice will be harvested from a tiny artesian stream that meanders through our little farm in the Valley.
With the holidays upon us, I decided to ask my new neighbors and a few folks at large about their favorite Christmas traditions. My neighbor, Colene, pours homemade raspberry liqueur over a mound of the season's first snow. They eat this treat like a flavorful dish of icecream as they celebrate winter's arrival.
I quizzed children's librarian, Karen Davis, at the Wasilla Public Library about her holiday customs. Personal questions are not the kind of queries she normally gets at the reference desk. Yet most librarians I know are nothing if not helpful.  She described how she and her husband once tried to celebrate a traditional Christmas during their time as Peace Corp volunteers in Botswana, Africa. "It was so hot," she said, "that when we lit the candles, they just melted." That pretty much wrapped up her attempts at traditional holiday festivities – with the exception of pork chili over cornbread stuffing, a dish she and her family savor every year.
Karen mused about my question a moment longer and then lit up. "The library itself has a holiday tradition. Santa comes every year during story time and brings handmade wooden toys for the kids." She gave me Santa's card, alias Jay Wickham "Sawdust Maker" from Palmer.
Santa invited me to his workshop where it appeared that a multitude of elves had been at work. Dozens of wooden toys in various stages of construction lined the tables and workbenches. Clip-clop horses, airplanes, and pull-toy dogs stood in rows while pieces of this year's wooden grasshoppers lay in boxes ready to assemble. Wickham specializes in one toy a year. This year he will give away 300 grasshoppers – bright green and red creations with legs that move up and down as the wooden toys roll across the floor. Last year he made dogs, the year before, horses. For the past 15 years he has donned a Santa suit to make surprise visits during story time at Mat-Su borough libraries. If there are leftover toys, he takes them to Colony Kitchen cafe and hands them out to random children.
Wickham accepts no money for his work. It's a labor of love and just one of many ways he serves the community. This Santa is busy year-round. Every year he builds a piece of furniture for the local Cancer Society's fund-raising raffle. He makes pinewood derby trophies for the Boy Scouts and birdhouse kits for 3rd graders at Pioneer Peak Elementary. In his spare time he builds lawn ornaments, curio cabinets, birdhouses and tries out new toy designs. If anyone insists on paying, he asks simply for wood in return – so he can continue to build. Like all big-hearted Santas, its compensation enough just to put a smile on people's faces.
He is grateful for the help he gets this time of year. Two waitresses from the Colony Kitchen café and his sister-in-law from Butte volunteer to help him paint and assemble all those toys. Mrs. Santa, alias Millie Wickham, keeps him on task and on schedule for his library visits. "I couldn't do it without them," he says.
The generosity of people like Jay Wickham reminds me that holiday traditions can reach beyond family and friends into the wider community. The things we do and the gifts we give don't have to end at our front door. Maybe the best gifts we can give are those we give to strangers.
As I left Santa's workshop, Wickham handed me a paper bag with a Spenard Builders Supply logo printed on the side. I looked inside and found a wooden pull-toy dog.
"That's for your grandson," he said. A hand-made gift to a little boy he'd never met.
Merry Christmas to you too, Mr. Wickham.
Moody Hens and other Notes from the Farm
The first to welcome us to Mat-Su were the turkeys. The big toms' melodious trills called out to us as we surveyed the spacious house, cozy barn, raised-bed gardens and 4.5 wooded acres cradled in the Valley. With great fanned tails and enormous wattles, they paraded their plumage as they followed us up and down the fence line of their pen. We quickly learned that the turkeys gobble when whistled to, and sound the alarm any time a car turns into the driveway.
We offered full price for the property and then dickered fiercely about how much to pay for the owner's two turkeys, three goats, and ten chickens. We wound up paying top dollar for the hens, took the goats in exchange for some dog kennels, and the conversant turkeys were thrown in for free. We closed on the livestock deal before signing on the dotted line for the property which prompted a note of concern from our realtor. But it seems in the Valley a handshake is as good as a signature and we became the owners of a dream come true – a little farm in Alaska.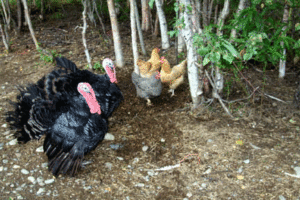 Like others who have moved to this fastest growing area of the state, we had several motivations to come here. After 20 great years in Eagle River, my husband and I felt it was time for a change; we wanted to move to the country. We had promised ourselves that someday we'd have a place for a pony – and the arrival of our first grandchild reminded us that time was passing. Finally, we put the literal horse before the proverbial cart (or barn) when – not being able to wait – I  bought my own "pony." I boarded my young Arabian gelding at Jon Naumann's Horsedrawn Carriage Company in Birchwood until we could find a place of our own.
So here we are now surrounded by stacks of boxes, slowly unpacking 20 years of accumulated belongings. We're often distracted by the view of a happy horse and our Labrador retriever playing in the corral. (Our disgruntled house cat, Katrina, has not been thrilled at the adventures of becoming a barn cat.) The goats — Mabel, Sugar, and the kid our grandson named "Cheese" – greet us with golden eyes and nudge their soft noses into our pockets each time we venture to the barn.
I confess that we have not yet settled completely into this new life. My husband and I both grew up in a small town in the Dakotas where farm living was just a wistful thought down someone else's prairie road. I know nothing about goats or chickens and have spent hours online researching the nuances of chicken behavior and how to properly feed goats. Our ignorance was very nearly the end of one of our poor hens; the farm book said to quickly dispatch any sick chicken before it infects the rest of the coop. Only later did I learn that the rumpled hen who refused to leave her nest was simply brooding, and wasn't ill after all. (Whew.)
We've also met delightful neighbors. Don drove up on his four-wheeler with the gift of three large cabbages from his garden. He's lived in the area for nearly 30 years and offered gardening advice and starter plants from his rhubarb and raspberry patches come spring.
Keven, who lives a few miles down the road, delivered hay and told us about his pig farm and how his only daughter graduated this year and how he occasionally dines on   the rogue pheasant that escape from Retriever Club activities down the way. He shared with us two jars of raw honey from his bee hives and gave us direction to his place – the house is canary yellow with purple trim. Can't miss it, he says.
By moving to the Valley we've expanded upon the Alaska dream – the mountains, the outdoor adventure, the fishing and hunting that drew us here in the first place. And we are incorporating our rural roots from the Dakotas, where the soil has always provided sustenance for both body and spirit. It seems to me that the two ideals fold together like the hands of a prayer.
And my best response to the expansive personality of this new place is a great big "Thank you."