Not a Toy: Death of Family Dog Demonstrates Dangers of Pellet Guns
He was the pick of the litter. A strong, beautiful pup, Denali had all the features of a fine, pedigreed Labrador retriever. Better even than his physical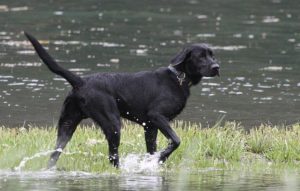 qualities, was his personality – intelligent, loyal, and affectionate.  He was a surprise birthday gift from Jen Tanner to her husband, Jesse Tanner shortly after they were married. The Tanners, of Wasilla, bonded immediately with Denali.  As a couple, they invested their best efforts in his upbringing, including puppy training, veterinary care, and lots of consistent, loving interaction with their high-energy dog. The result was a well-behaved, cherished companion who added immeasurably to their lives.
Three weeks ago, someone with a pellet or air gun shot Denali dead. He was just four years old.
The details are unclear, since no one has come forward or witnessed the shooting. Jen said that the veterinarian who performed the necropsy sees it all the time. Animals that have been shot with pellet or air guns are vulnerable to life-threatening infections, even when their injuries appear to be minor.
"The wound itself can look innocuous, but the (pellets) can definitely cause severe damage especially if it lodges in the abdomen or chest cavity," said Dr. Lorelei Cuthbert of Ravenwood Veterinary clinic in Eagle River.
Today's pellet and air guns come in models with power equivalent to a high-powered rifle.
"There are pellet guns made today that are powerful enough to kill a buffalo," said Jim Kedrowski, owner of Arctic Fox Taxidermy in Wasilla. "People don't realize how powerful they are." He is quick to point out these guns – even the lighter caliber models – are not toys.
The guns are not just a danger to pets. A study by the Center for Disease Control (CDC) reports that more than 30,000 people are treated in emergency rooms each year because of pellet gun injuries. Of those, 81 percent are children or teenagers. The majority of these are males ages 10-14 years.
Denali was killed with was a .177 pellet, one that coincides with a number of higher powered pellet or air guns. According the website of Airgundepot.com, .177 caliber air rifles can reach velocities of up to 1250 FPS (feet per second). Denali was likely shot in his yard, where he was restrained by an electronic perimeter fence. Tanners didn't notice the small puncture wound to his abdomen. One evening, he just grew terribly ill. When Jen and Jesse realized Denali was in big trouble, they loaded him into the back seat of the car and Jen rushed him to the vet. He died on the way. The vet believes the pellet was in his body for several days before the infection became apparent. By then it was too late.
An estimated 3.2 million nonpowder guns are sold in the United States each year with muzzle velocities from 350 FPS to 1350 FPS. Despite the large number of BB and pellet gun-related injuries treated in emergency rooms each year, there are no nationally specified safety standards for nonpowder guns.
The Tanners are not opposed to guns or hunting. But they are still stunned that their beloved Denali is gone.
"He was that one in a million dog," Jen said. "We had so many people who wanted one of his pups. He was perfect."
The Tanner's 15-month-old daughter liked to crawl all over Denali, who patiently bore her toddler affections.  Jesse and Jen can't help but think that if a pellet gun can kill a dog, what about a child? Their concern has merit. The Consumer Product Safety Commission reports that at least four children every year die from a popular holiday gift – the BB gun.
The Tanners don't know who shot Denali or why. But they, along with other responsible gun owners like Jim Kedrowski, and veterinarians across Eagle River and the Valley, urge parents to teach their children about the dangers of these guns and provide direct supervision in their use. Every gun user should be educated about the importance of gun-safety practices and how to safely handle a firearm. When not in use, all guns in the home should be kept locked up and unloaded.
Meanwhile, there's a big hole in the Tanner household – a place where a good and faithful dog once resided.
"I miss him every day," Jesse said.