I'm not a shoe person like my mom. My stylish mother's head turns every time we pass by a shoe store or display. She loves pretty footwear; I believe she'd have  a pair for every outfit and occasion if she could. I guess I'm more of a boot person. For one thing, boots don't even pretend to be pretty. There is no such thing as a pretty pair of shoes when you wear my size. Boots come in men's sizes, and when I shop, I'm looking for comfort and mileage. One of the most important qualities is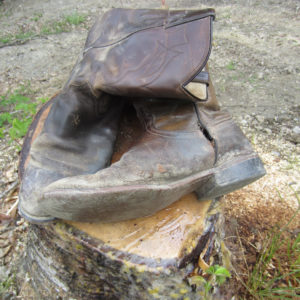 durability because I'm looking for a long-term, hard-working relationship.
Which brings me to my current situation. Sadly, like good dogs and honest horses, boots have a limited lifespan. I have outlived four dogs and a horse and friends have been telling me for some time now that it is time to say goodbye to my old cowboy boots. Two years ago, at the Palmer Fairgrounds, someone wondered if I'd forgotten to change into something more respectable for the Parade of Stallions.  Last year, someone else bluntly asked when I was going to buy some new boots. This year there's just an awkward silence that happens when something embarrassing stays, shall we say, unmentioned.
 I admit the boots are literally coming apart at the seams. The inside lining has long since ripped out. They are tattered and stained. All that remains are worn soles, cracked leather that lets in daylight, and a whole lot of memories.
I bought them in North Dakota in the small town where my late mother- and father-in-law at one time owned a working cattle ranch. We rode many miles checking and mending fences in the hot Dakota sun. In early spring, we pulled calves and watched newborn babies totter to their mother's sides. We rounded up cattle on horseback and moved them from one pasture to another to graze. We branded and vaccinated bawling calves in old wood-rail corrals. We hauled bales and planted trees and watched for deer that the guys would hunt in the fall. The day my father-in-law and I lay my sick horse to rest, those boots stood on prairie ground as tears rained from both our eyes. They hold the memories of ranch life, hard and dusty but good.
Those boots also saw many fine experiences on trails in Alaska, although they went airborne twice with me as I got bucked off my new horse. This set me on a journey to learn a new kind of riding that expanded beyond the cowboy way. I set about learning a nuanced language and discovered that horses had more to teach me than I could have imagined. I rode in view of Pioneer Peak with my mother, who aside from pretty shoes also enjoys the beauty of mountains and horses.
One day in attempting to keep from getting my boots wet, I put my feet up on my horse's neck as we crossed a deep spot along the Little Susitna River.  I might mention that leaning back, feet out of the stirrups, is not the most stable position on a horse. When a school of salmon swam by, bumping into my mare's legs, she leaped out of the water, leaving me and the boots behind for a thorough dunking.
Last week, I finally relented and bought that new pair of boots — but they remain in the box. I'm still wearing the old ones, knowing their days are numbered. The new boots are young and inexperienced. They are strangers to my feet and have not yet melded to my stride. They haven't yet kicked manure, been buried in mud, or pressed their heels against the flanks of a horse. Every time I slip into my old boots, it feels like a hug from a good friend. To think about throwing them in a dumpster seems, well, disrespectful. It seems far more fitting that they should be buried under an old oak tree – or in Alaska, a tall birch.
Sharing these sentiments with a friend recently, I was gratified when he listened without laughing.  Then quietly he said, "I'll dig a hole."
So today, or tomorrow, or maybe the next day we'll bury the old boots. I won't be parting with the memories though. Those I'll hold dear for the rest of my days. Afterward, I suppose, it will be time to take some new friends out of the box. And maybe the best way to get acquainted will be to go for a nice long ride.