It's been said that anyone can grow rhubarb, and to be careful where you place the plant since it grows prolifically and lives for a long time. I remember pulling stalks of rhubarb from the garden as a kid. Mom would give us a dish of white sugar and my sisters and I would dunk the end of the stalk before crunching down on its mouth-watering tartness.
Trouble is I've had no luck whatsoever growing the stuff. I love rhubarb. Pies, jams, crisps, sauces – anything with even a hint of rhubarb is delicious. But my plants are anemic and have rarely produced more than a stalk or two – and hardly the big rhubarb swizzle sticks of my childhood. In fact, it's given me a bit of a gardening complex. Many friends have given me rhubarb starts – all of which eventually fail to produce. How can I grow a profusion of flowers, baskets full of blossoms, and still fail to raise this so-called resilient, hardy plant? A friend, who is currently enrolled in Master Gardener courses, suggested I may need to have my soil tested. I'm sure she's right.
Meanwhile, I'm always grateful for the abundance of rhubarb patches other than my own. One of the best rhubarb gardens I've ever seen is at Jon and Myra Nauman's in Chugiak. Owners of the Horse Drawn Carriage Company, the couple dig up their rhubarb plants every few years, plunk in a few shovels full of horse manure, and reset the plants back into the soil. Their rhubarb stalks grow thick as fists with leaves the size of elephant ears. (Yes, I've tried this trick with my plants but to no avail.)
The history of rhubarb is long and colorful. The Chinese had been cultivating rhubarb for medicinal uses since 2700 BC. Marco Polo talked about Chinese rhubarb at length in the accounts of his travels. In 1778 rhubarb was recorded as a food plant in Europe – its earliest use was as filling for tarts & pies. Rhubarb was first grown in America between 1790-1800 by a Maine gardener who managed to get seed or root stock from Europe.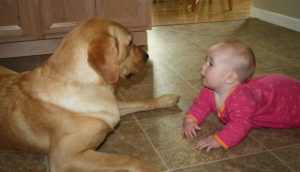 My family's history of the plant is, as mentioned, scant. Yet there is one "rhubarb" that currently abounds. My son's family just so happen to name their puppy "Rhubarb." An energetic lab, she is the daughter of my dog "LC" and now a happy one-year-old. She is the family's friend and protector. (She excels at warning the family about bears in the yard.) And she is as sweet as the sugar I used for dipping rhubarb as a kid.
As for next year's attempt at growing the stuff, I will get the soil tested and try it again. For now, the rainy days of August put me in the mood for Rhubarb Crisp. I may have to ask around if anyone has rhubarb to spare.
Rhubarb Crisp
4 cups chopped rhubarb
3 tablespoons orange juice mixed with 1 tablespoon cornstarch
1 cup granulated sugar
1/2 teaspoon ground cinnamon
1 tablespoons cold butter, cut in small pieces
1/4 cup melted butter
1/3 cup brown sugar
2/3 cup sifted all-purpose flour
dash salt
1/4 teaspoon baking soda
2/3 cup quick cooking rolled oats
Heat oven to 375°. Butter an 8-inch square baking dish. Arrange diced rhubarb in the prepared baking dish. Toss rhubarb with the orange juice and cornstarch mixture, then sprinkle with the 1 cup sugar and the cinnamon; dot with the 1 tablespoon of cut up butter.
Combine melted butter with brown sugar. Sift together the flour, salt, and baking soda; mix with oats. Combine the flour oat mixture with the brown sugar and melted butter mixture until well blended. Spread the crumb mixture over rhubarb. Bake for 40 minutes.
Serve warm, with ice cream or whipped topping.